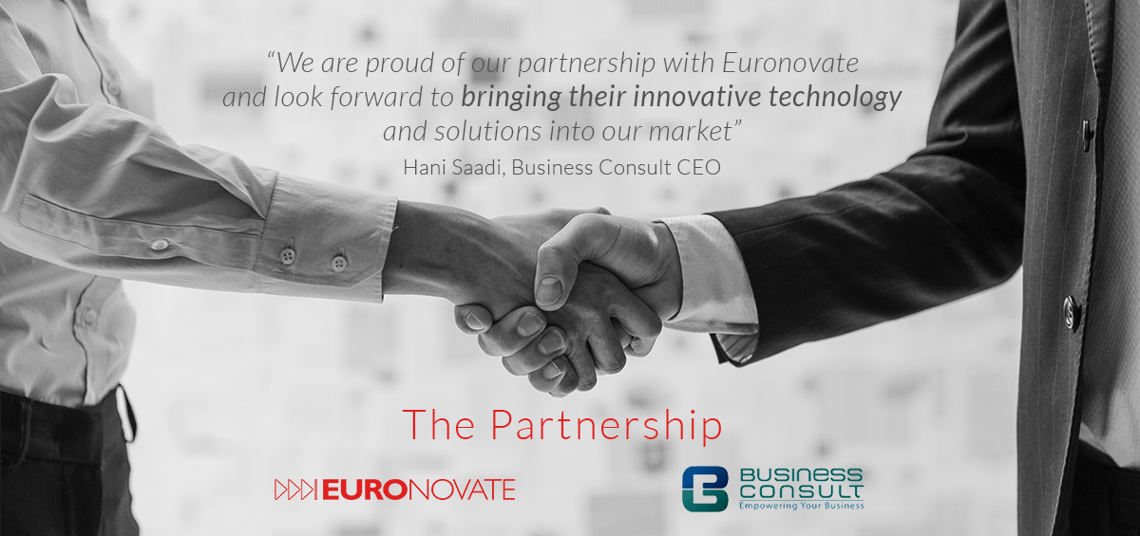 Jordanian Business Consult, Euronovate's new partner in the Middle East
Amman, September 2021
Euronovate, a leading company in the supply of software solutions, hardware and consulting services for the digitization of business processes, and Business Consult, a Jordanian technology company specialising in customised software solutions, have signed an a strategic commercial and technical agreement to increase their presence both in the Jordanian market and in other countries in the Middle East such as Saudi Arabia, Qatar and Kuwait, where Business Consult already has clients.
As the CEO of Business Consultant, Hani Saadi, affirms: "We are proud of our partnership with Euronovate and look forward to bringing their innovative technology and solutions into our markets."
In the first phase, the industries to be targeted will be banking and telecommunications, later expanding to the insurance and health sectors.
Business Consult, founded in 2001, has a vision to provide IT software solutions to help companies improve and optimise their business operations. Euronovate's new partner is also the first Jordanian company to provide Enterprise Resource Planning (ERP) solutions, making it the leading local provider of these business management solutions that are included into its CRM, Portals and Business Process Management services portfolio.
Business Consult has recently developed a system in order to improve user experience in shops and subsidiaries to create brand awareness, attract customers, increase productivity and generate sales. This solution will be assisted by Euronovate's IT support, which has a portfolio of services that helps companies during all digitization phases, as well as other proprietary processes for customer on-boarding and e-signature in all its forms. This guarantees absolute legal compliance and maximum security for users and companies.
Finally, Business Consult will also enjoy the hardware manufactured by Euronovate. In fact the italian company is also specialized in the creation, development, design, and production of graphometric signature pads, through an end-to-end approach that provides functional solutions to the needs of each market segment.
Media Coverage
Adriatic Economy Observer
https://www.adriaeco.eu/2021/10/19/euronovate-alla-conquista-del-medioriente/
Comunicati Stampa
https://www.comunicatistampa.net/mercato-giordania/