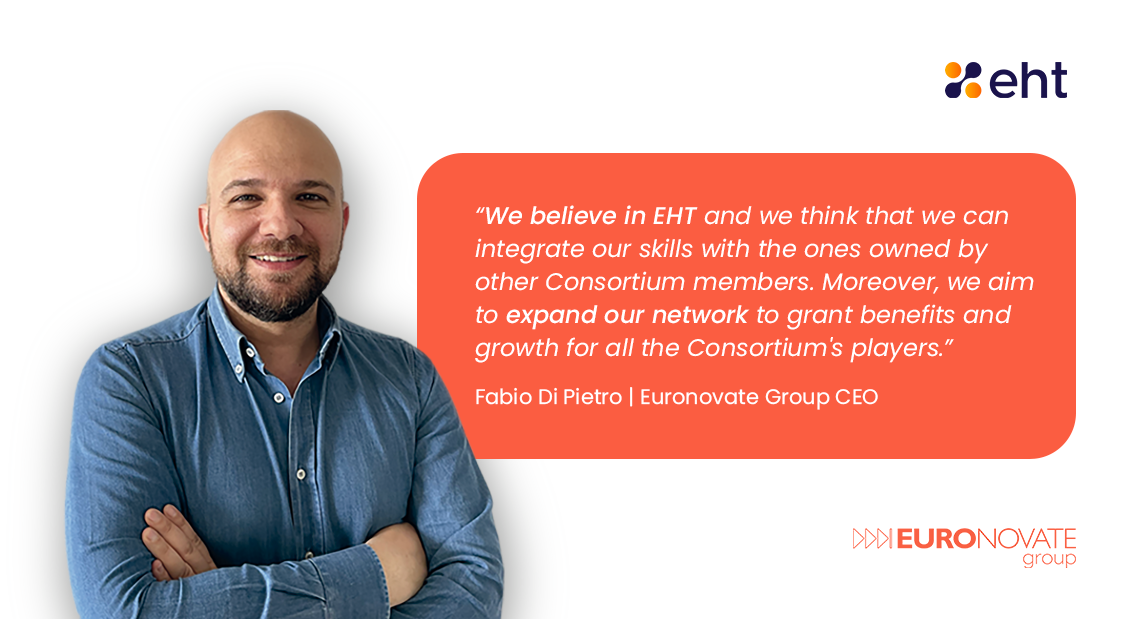 Euronovate Group CEO Fabio Di Pietro interviewed by EHT Consortium
Fabio Di Pietro Euronovate Group CEO, during his last interview conducted by EHT consortium, presented the company's activity to the association, its players and stakeholders.
Infact, last May Euronovate Group became member of the EHT consortium, an Italian association which represents a real point of reference for the digitalization process within the country. EHT gathers together more than 60 companies and 49 investors, which synergically work together, promoting research and development.
Di Pietro explained Euronovate Group business core, which gravitates around three pillars (Digital Identity, e-Signature and Certification Authority). The CEO also enlightened the importance of sharing experiences with the other EHT members: "We think that we can bring our skills integrating them with the ones owned by other consortium's members", growing together thanks to a mutual support.
Euronovate Group recognized it as a real privilege being part of such a competent and interesting association of companies, looking forward to reaching common successes.
The short interview was conducted in Italian, here is the integral transcription in English:
I'm Fabio Di Pietro, eSignWorld's CEO, an International Vendor for Trust Technology.
Our value proposition is based on three Pillars:
Secure our partners' identity
Provide the customer with signature solutions.
And then, we're a Certification Authority
Why is it a privilege for us to be part of the EHT consortium?
First of all, because we believe in it and we think that we can integrate our skills with the ones owned by other consortium members. Moreover, we aim to expand our network to grant benefits and growth for all the Consortium's players.
eSignWorld firmly believes in EHT's process and activity and is certainly #easydigital.