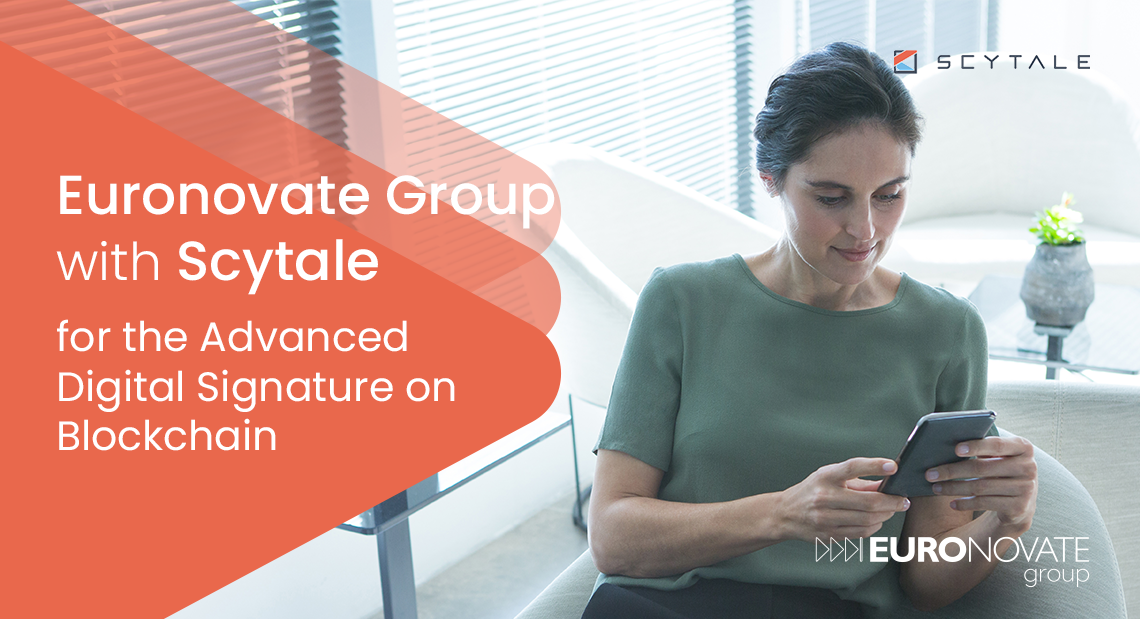 Euronovate Group and Scytale Bring Advanced Digital Signature to Blockchain
The joint solution guarantees professionals and companies the signing of documents with high security standards even with the Smartphone and in compliance with the eIDAS regulation.
Each document, or signature, is authenticated on the Blockchain as if the signatories were physically in front of a notary.
Milan, March 24, 2022 - Euronovate Group, leading supplier of software, hardware and services for the digital transformation of companies and Scytale, a reference company in the field of Blockchain in the Insurtech and Fintech sectors, have signed a partnership to offer their customers the possibility of using a signature process advanced and secure with maximum legal validity in an end-to-end ecosystem.
The electronic signature on Blockchain is emerging as a technological revolution, especially in the Fintech and Insurtech sectors. Its technology facilitates and improves signing processes since the main advantage lies in the possibility of stipulating any contract at a distance. This digital signature method has high security standards and allows you to digitally sign contractual and pre-contractual documents in accordance with the law, even using a smartphone.
Blockchain technology for advanced digital signature improves transparency and the possibility of verification by the individual user, without changing the user experience, reduces timing and guarantees maximum transparency and protection. Its use is very simple: the user uploads on the platform the PDF to be signed, selecting the recipient of the documents. The recipient receives a signature notice on his mobile phone and opens the application with the document on the device, checks the signature box, verifies his identity using a private code (OTP) and at that point the program proceeds to sign the document. From that moment on, the document, the signatory, the method used to sign and the audit will be authenticated thanks to the Blockchain technology so that they are unalterable and incorruptible.
Each document, signature, or acceptance is certified in the Blockchain and has the same validity as a procedure carried out in person, before a notary. This process guarantees its integrity, immutability and the ability to irrevocably prove the upload date of the document or information entered, guaranteeing its official status in full compliance with security. The document therefore becomes unique and unrepeatable and makes any attempt at manipulation or modification impossible.
The signature data is associated with the fingerprint, which in turn is protected by a cryptographic technique that preserves the signature from any possibility of extraction or duplication. This method represents the evolution of the OTP and the Advanced Graphometric Electronic Signature towards a higher level, thanks to technological progress and transparency.
The collaboration between Euronovate and Scytale gives companies access to the most advanced digital signature technologies in full compliance with the eIDAS regulation.
This article has been published in the following media: