This signature pad stands out for its extreme durability along with outstanding security features and a stylish appearance.
A signature Pad that Offers Durability for your Business
duraSign Pad Brilliance stands out for its extreme durability coupled with outstanding security features and an elegant appearance.
This signature pad offers unparalleled ergonomics for signatories: whether you are left- or right-handed, it feels just like signing a piece of paper. Outstanding internal pad security coupled with an optional real-time clock for a secure date stamp on every signature as well as optional opening recognition, make this signature pad a truly extraordinary product.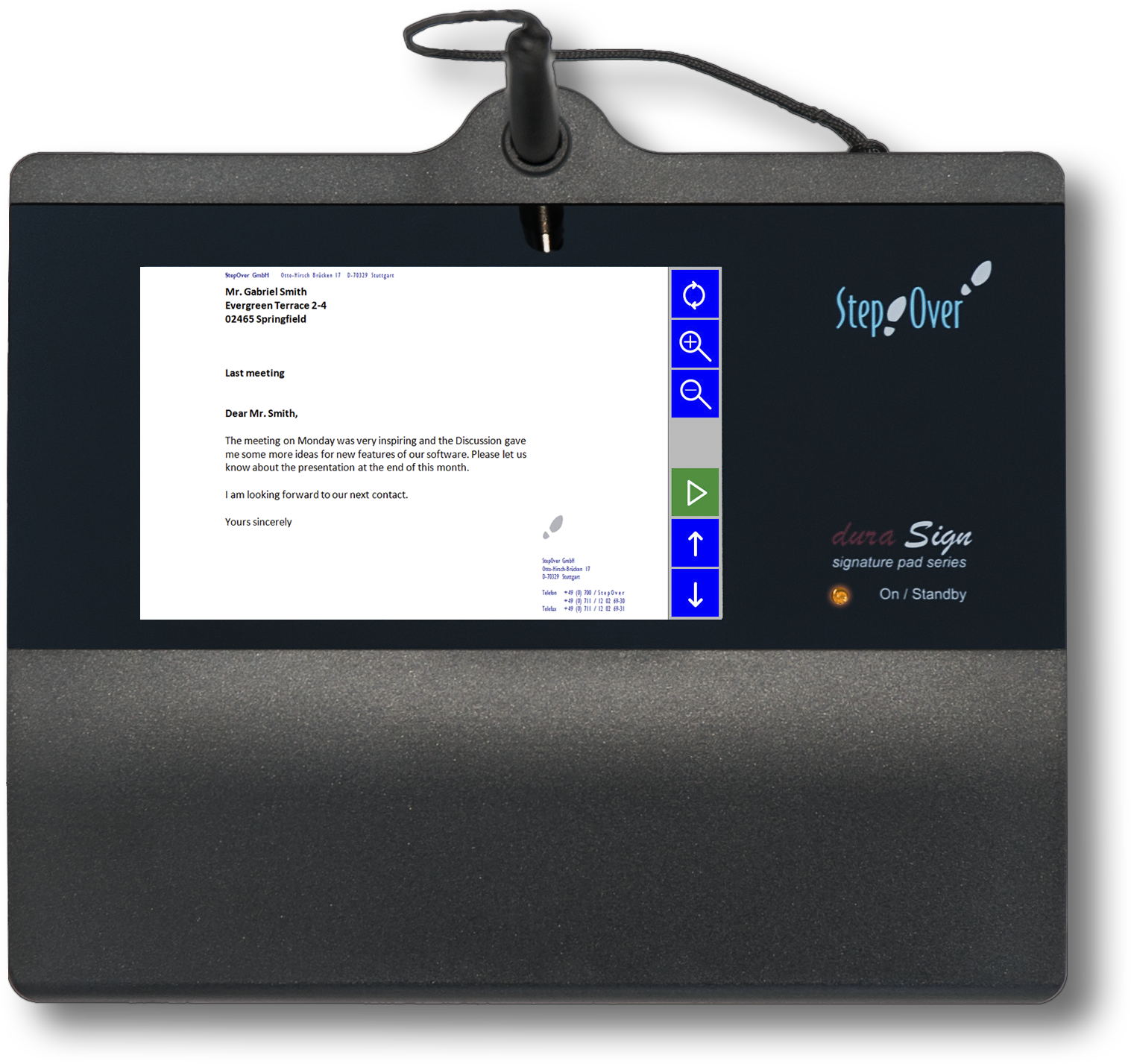 duraSign stands for durability!
The duraSign Pad Brilliance with a bright colour screen and USB port has been designed and manufactured especially for frequent and heavy use at the sales counter. Its robust construction featuring a 3 mm polycarbonate case and a large, hardened glass surface makes this signature pad an attractive solution built to last.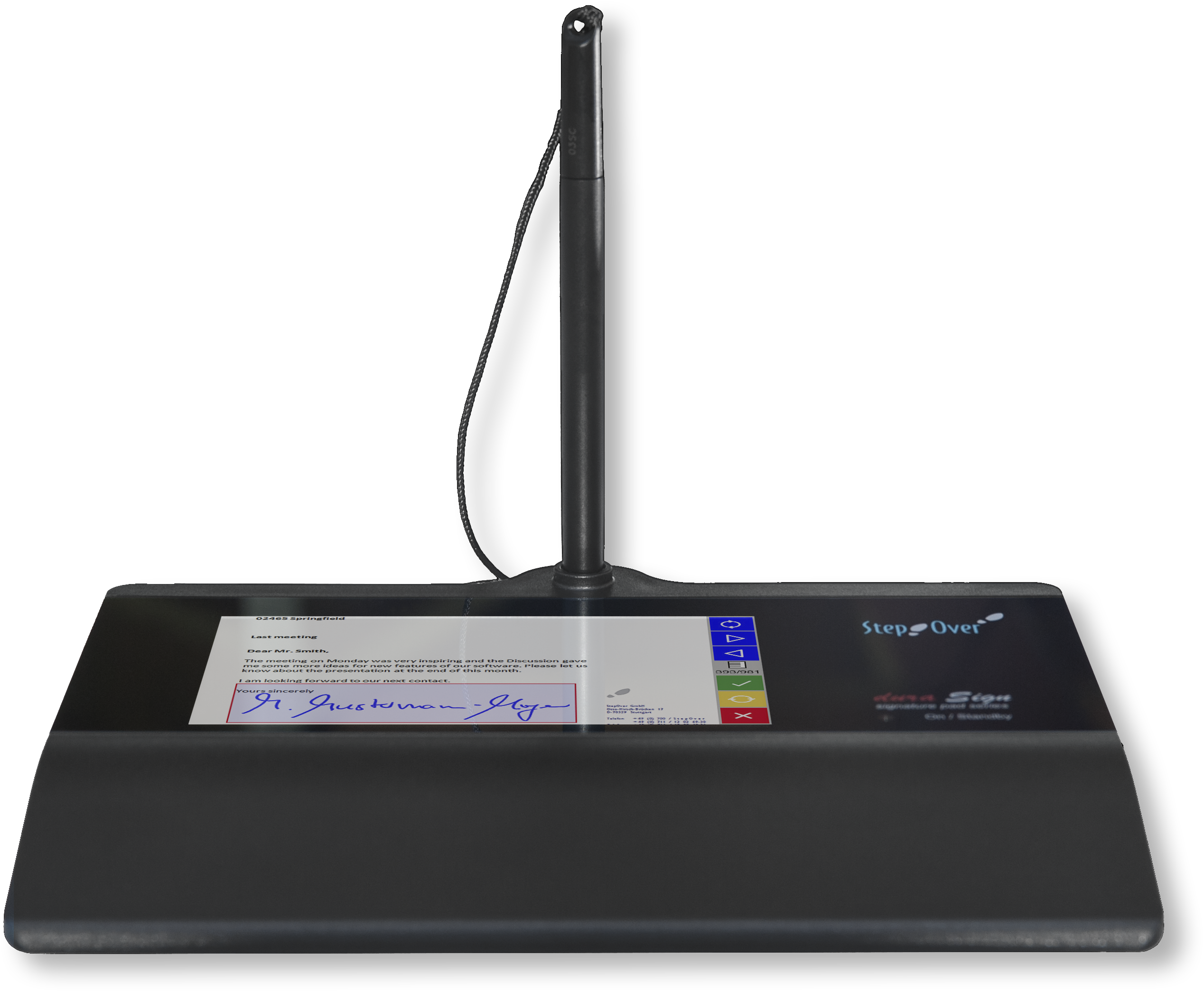 Sophisticated detailed solution for everyday stationary transactions
The duraSign Pad Brilliance features a vertical stylus holder for secure storage and easy access. The new "duraPen 1" battery-free electromagnetic stylus is securely attached to the casing by a tear-proof cord. The duraPen 1 and the cord can be replaced on site, with no need to open or post the casing.

The USB port with cable channel sunk into the casing base combines the advantages of a sturdy supply cable with the flexibility of a replaceable standard USB cable.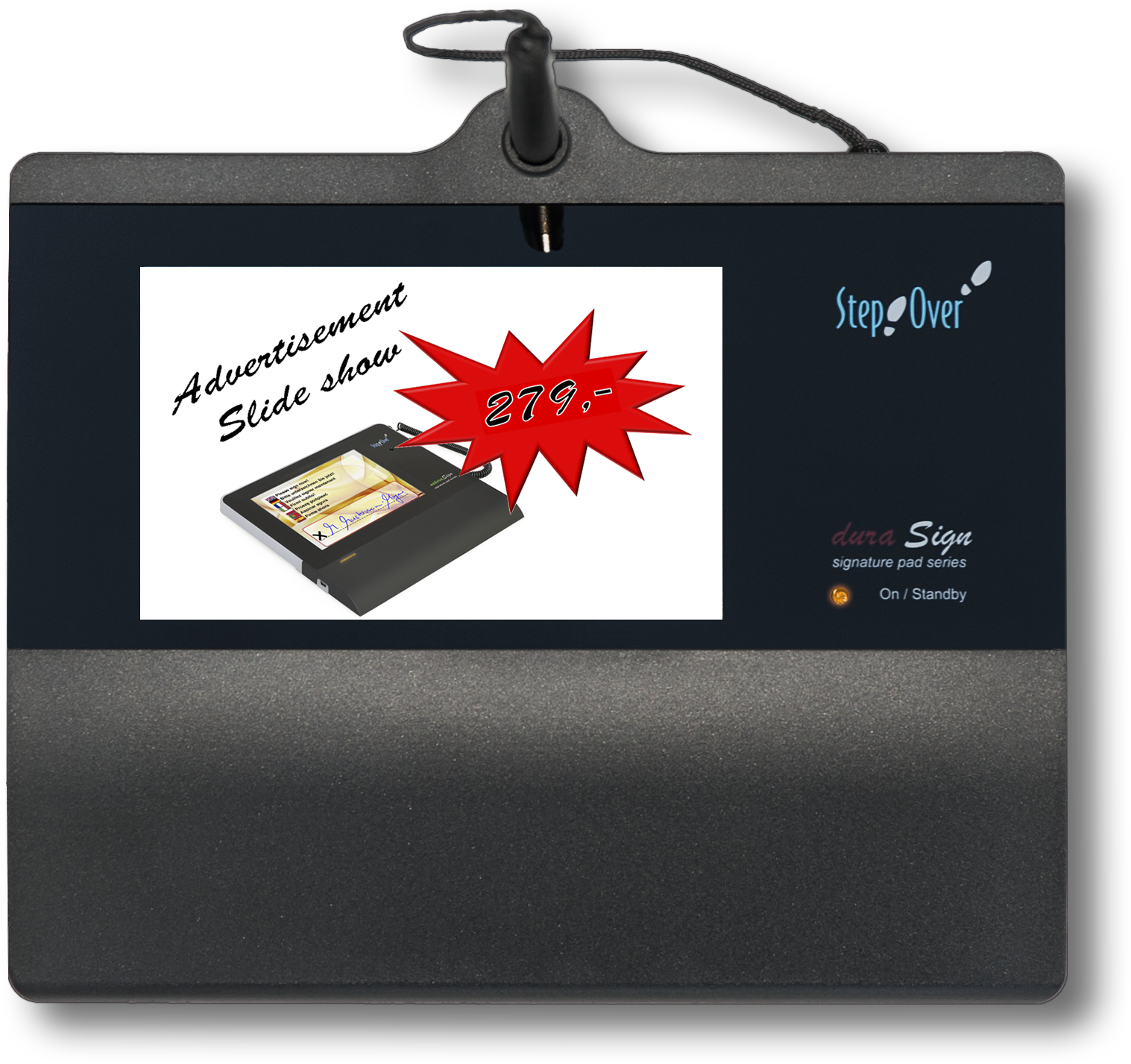 High-resolution colour screen plenty of flexibility
The high-resolution colour screen with its 800×480 pixel resolution gives you enough space to insert long texts, messages, and interactive buttons. You can adjust the design of the screen content just as you please. At the counter, it is often difficult to turn the screen to the client and not disclose the displayed information to as yet unauthorized persons.
Effortless Signing Process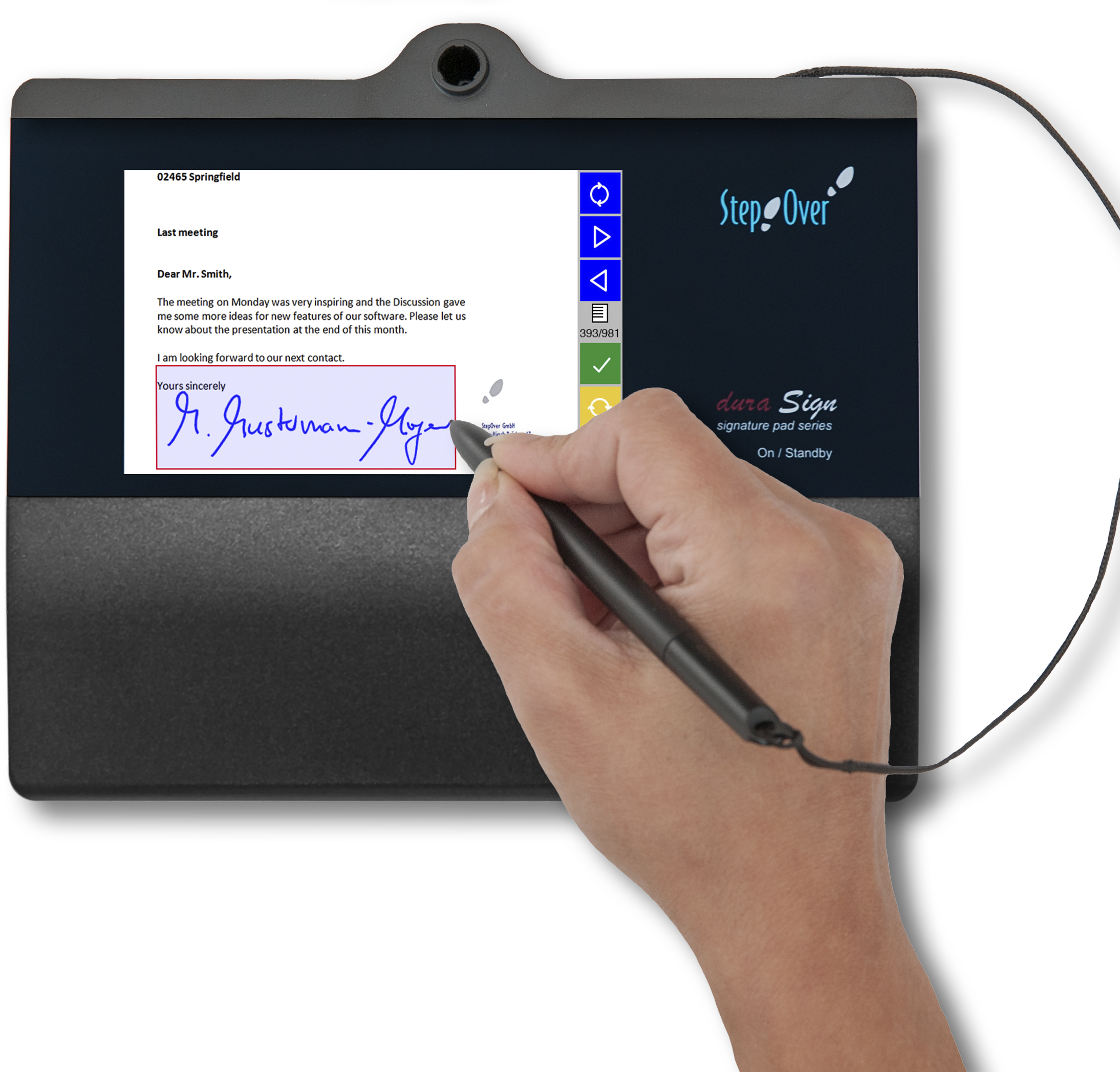 Sign the document directly

The colour screen not only allows you to view small sections of text, it also allows you to sign directly on the document. The signature is displayed on the signature pad colour screen in real time – just like on paper.

Terminal server capability

The duraSign Pad Brilliance signature pad also allows you to select a different transmission protocol at any time (HID, VCOM, Wyse). It is therefore, possible to adapt to an altered IT landscape (terminal server, Citrix, thin client, Windows CE) even at a later date.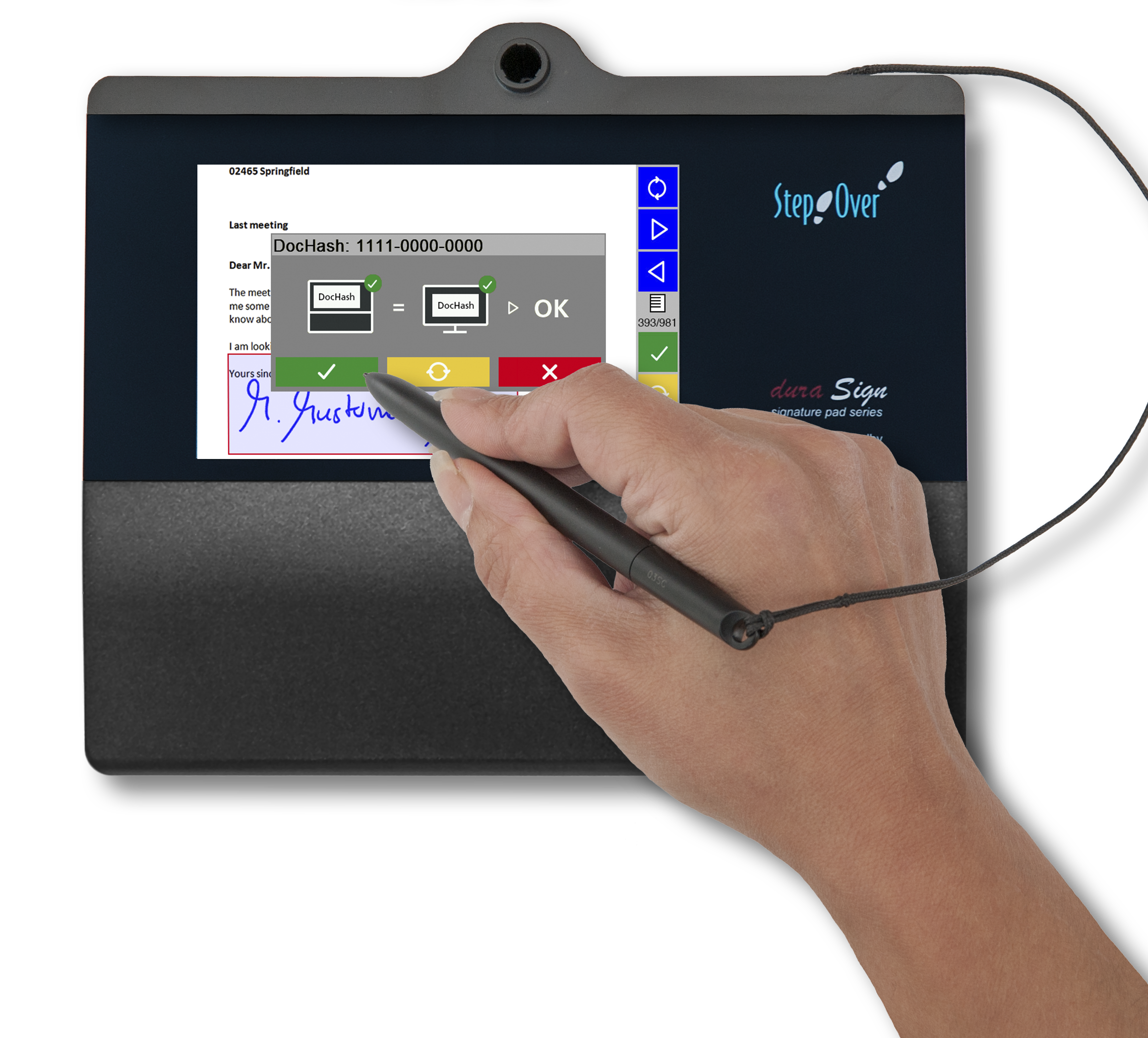 Customer dialogue using the signature pad
Dialog mode for our project-related clients. The customer can enter all the relevant user information on the signature pad itself, without the need for a second screen. This is particularly useful for transactions at the service counter.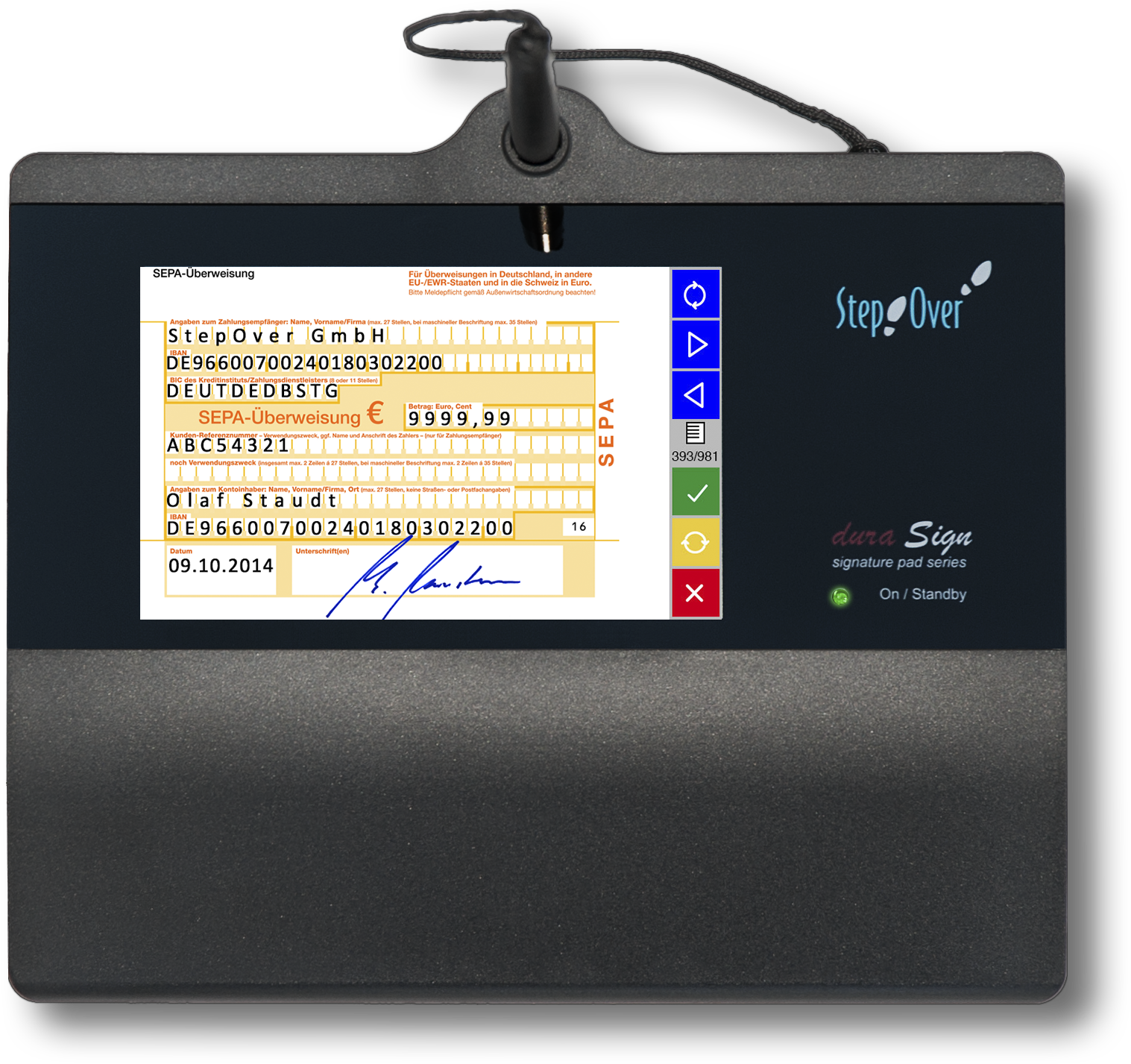 The highest possible proof of security
Each EuronovateGroup signature pad has a unique certificate for digital signature (up to 4096-bit RSA): the internal signature creation unit signs the relevant document in a completely safe way, after which the signature can be assigned to a specific signature pad at a later time. duraSign Pad Brilliance contains a public key of a second key pair, generated by a notary public. This key securely encrypts the biometric data of your signature in the signature pad.
DuraSign Pad Brilliance provides business with the many benefits: