naturaSign Pad Mobile is a Robust Signature pad for mobile use which is extremely compact, strong and comfortable for signature capture.
A signature pad that offers durability for your business
naturaSign Pad Mobile is specifically developed for the requirement of mobile usage, including field sales. Thanks to the large black and white screen, the super slim design (0.95 cm thick) and its curved edges, the naturaSign Pad Mobile is also an extremely compact, yet sturdy and comfortable, device for signature capture.
Robust Pad for In-Field Use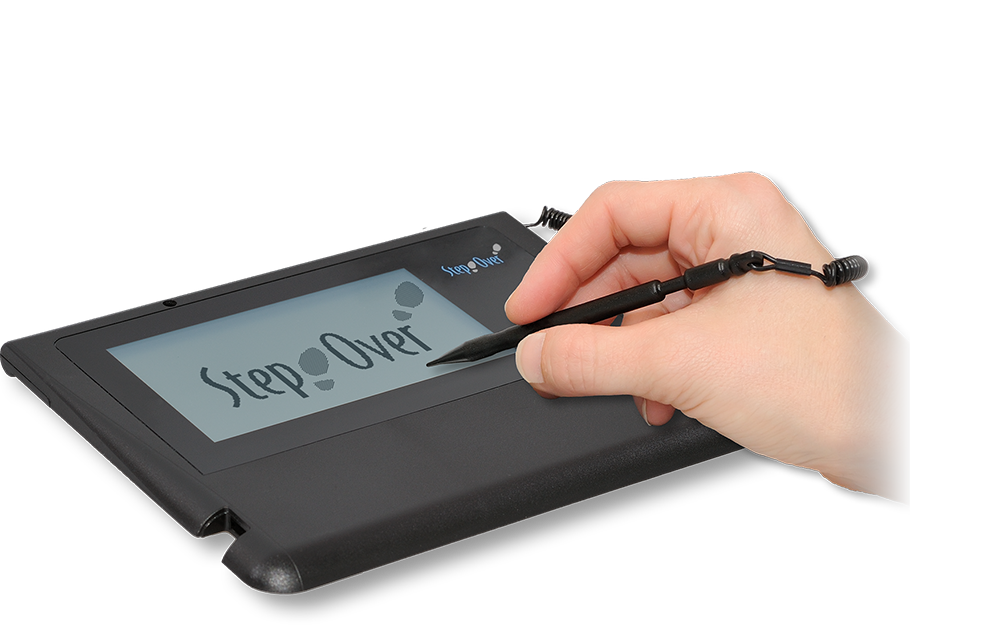 Big black-and-white screen - big possibilities
The enlarged black and white screen of the pad offers even more space for signatures: even scrawled handwriting is no longer a problem. The tried-and-tested "rotate" function enables you to turn the signature line 180°, so left-handers can also sign comfortably.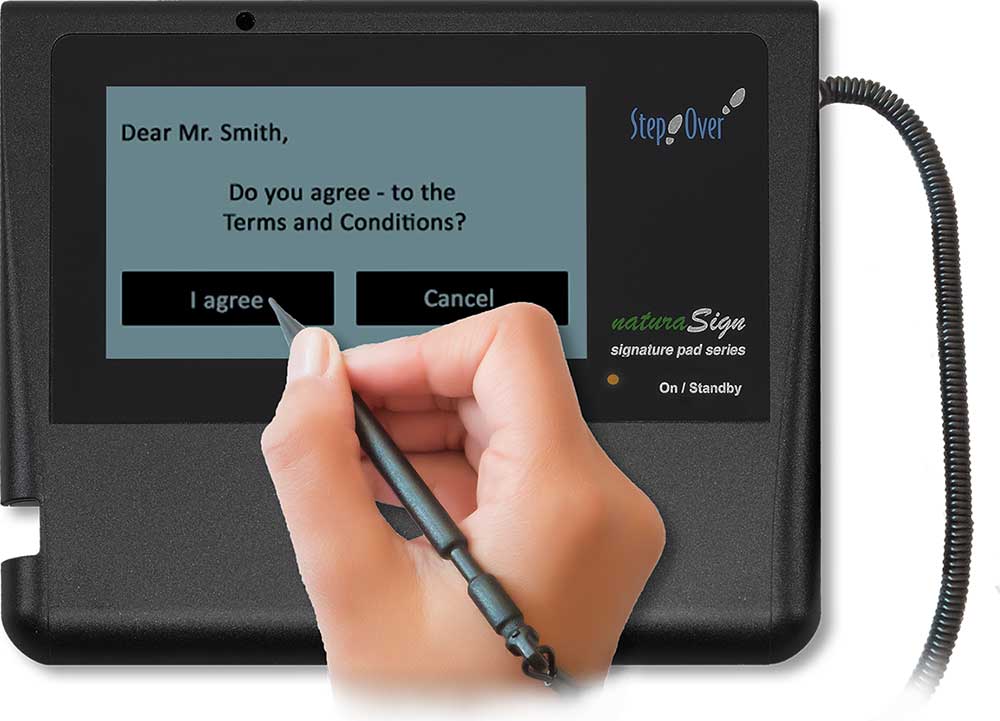 More than just a signature...
Now you can insert individual text on the screen, as well as position interactive buttons or your company logo. The high-resolution black-and-white screen ensures that your text will be clearly displayed.
Designed for Accessibility
New Resistive Design!

The flat touch display coupled with easy-care casing offers a convenient method of signing, with no sharp edges or corners. Grime doesn't stand a chance!

Space - Saving but Stable!

A signature pad with a black-and-white screen that's flatter than a CD case and therefore saves you plenty of space e.g. can be taken with you in a laptop bag. Nonetheless, it's very stable and meets the demands of daily use whilst on the move!

Plug cavity for the USB - connector

The input for the USB cable protects the connection, especially against pressure applied to the sides.
Compact Size with
Guaranteed Security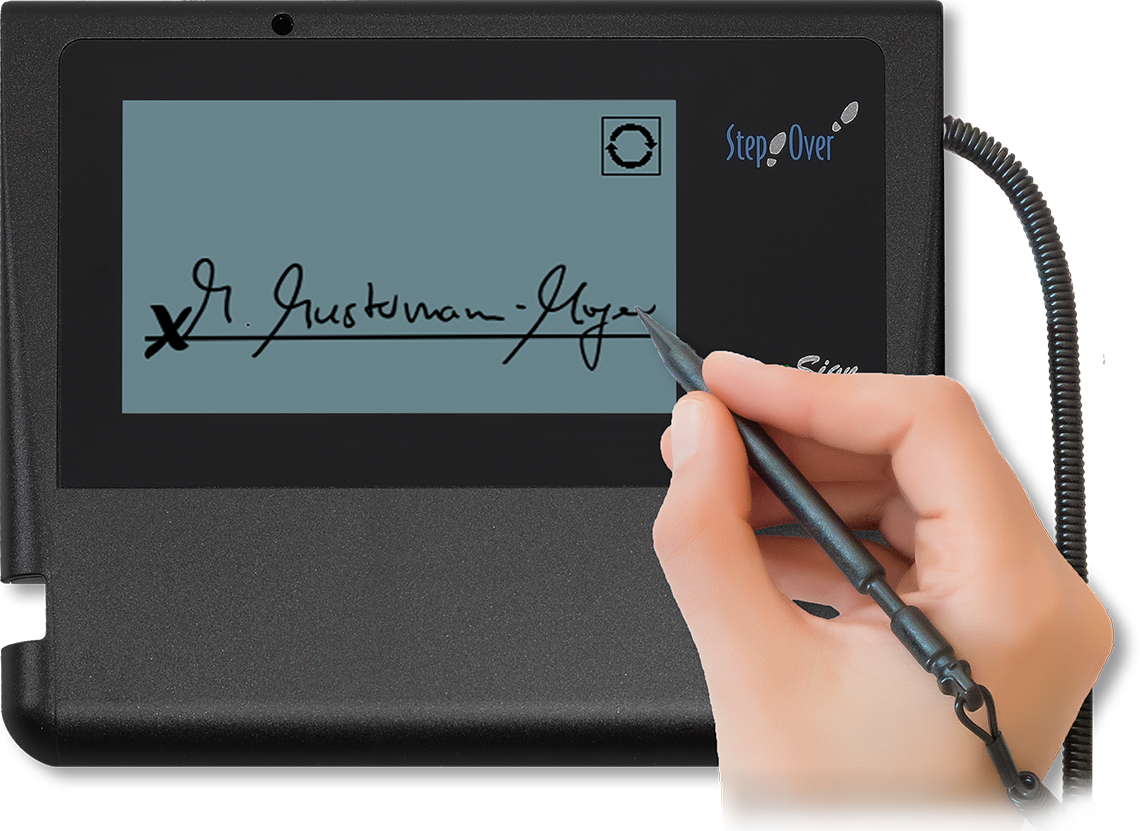 The highest possible security proof
Every Euronovate Group's signature pad has a unique certificate for digital signature (up to 4096-bit RSA) with this, it is possible for the pad's secure internal signature creation unit to sign the relevant document, and later to also unambiguously assign it to a specific signature pad. The signature pad contains a public key from a second key pair, created by a notary public. This key securely encrypts the biometric data of your signature on the pad. In this way, highly sensitive data is never found decrypted in the "unsecured" environment.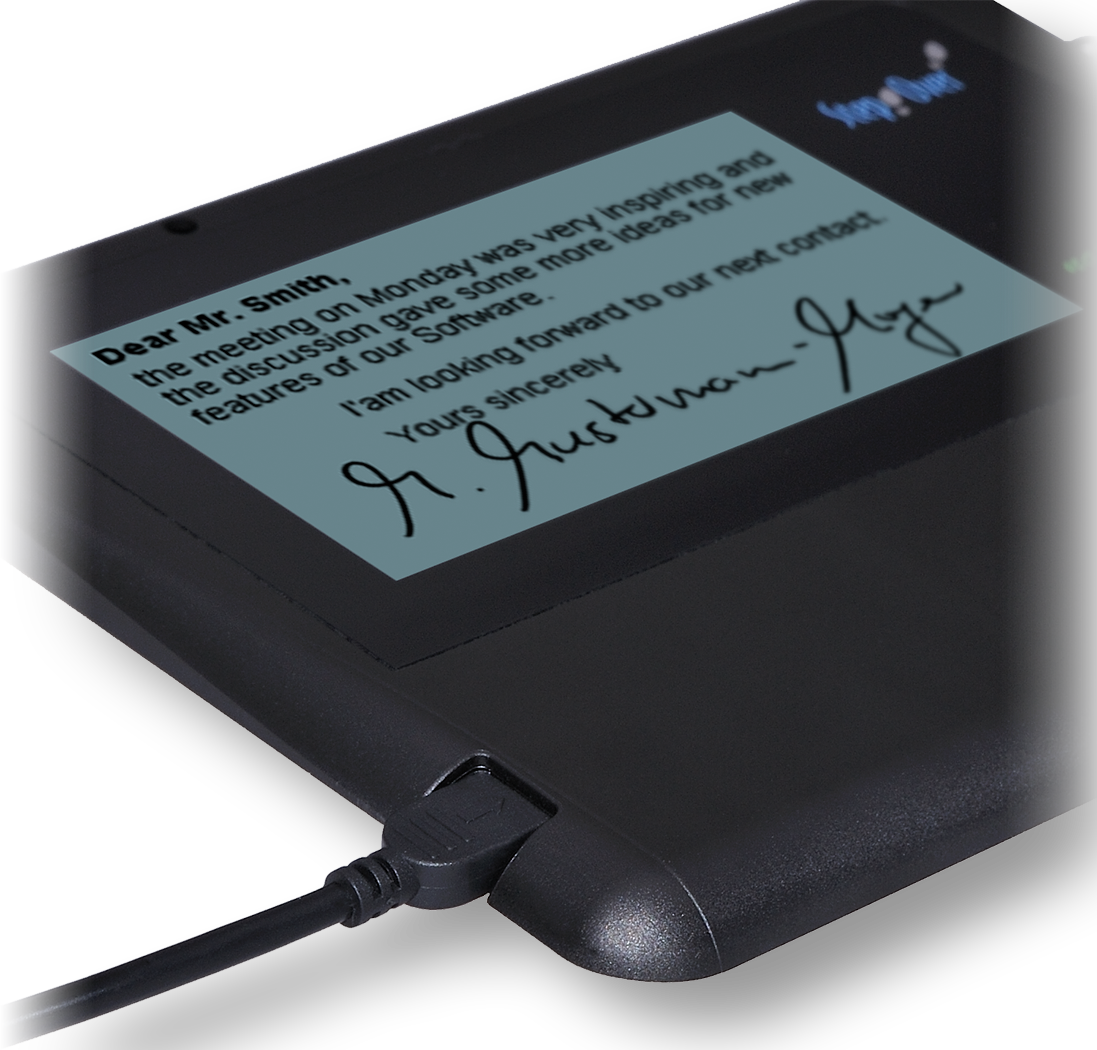 Security for you
The unique security concept of this Euronovate Group's signature pad will guarantee users the highest possible degree of security in court, as users themselves will not be able to manipulate the signature solution in any way. Also is suitable for developing a system for simple and advanced electronic signatures according to eIDAS.
naturaSign Pad Mobile provides business with the many benefits: